Our campings welcome groups for meetings or seminars
_
Why not hold your seminars at a campsite? We have the dedicated infrastructures, upmarket accommodation, high-quality rental facilities and various activities you will need.
No more seminars in sad and soulless locations!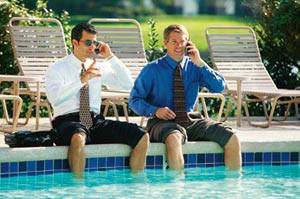 With Yelloh! Village, you've got sun, beaches, countryside and mountains for your company projects or group events: within some of France's most beautiful regions, with wonderful environments and breathtaking scenery, you can hold unforgettable meetings, seminars and events here.
Between meetings, you can use our aquatic parks and relax in a heated pool or in an artificial lagoon. The perfect place for combining work and relaxation, in a location suited to motivation and stimulation.