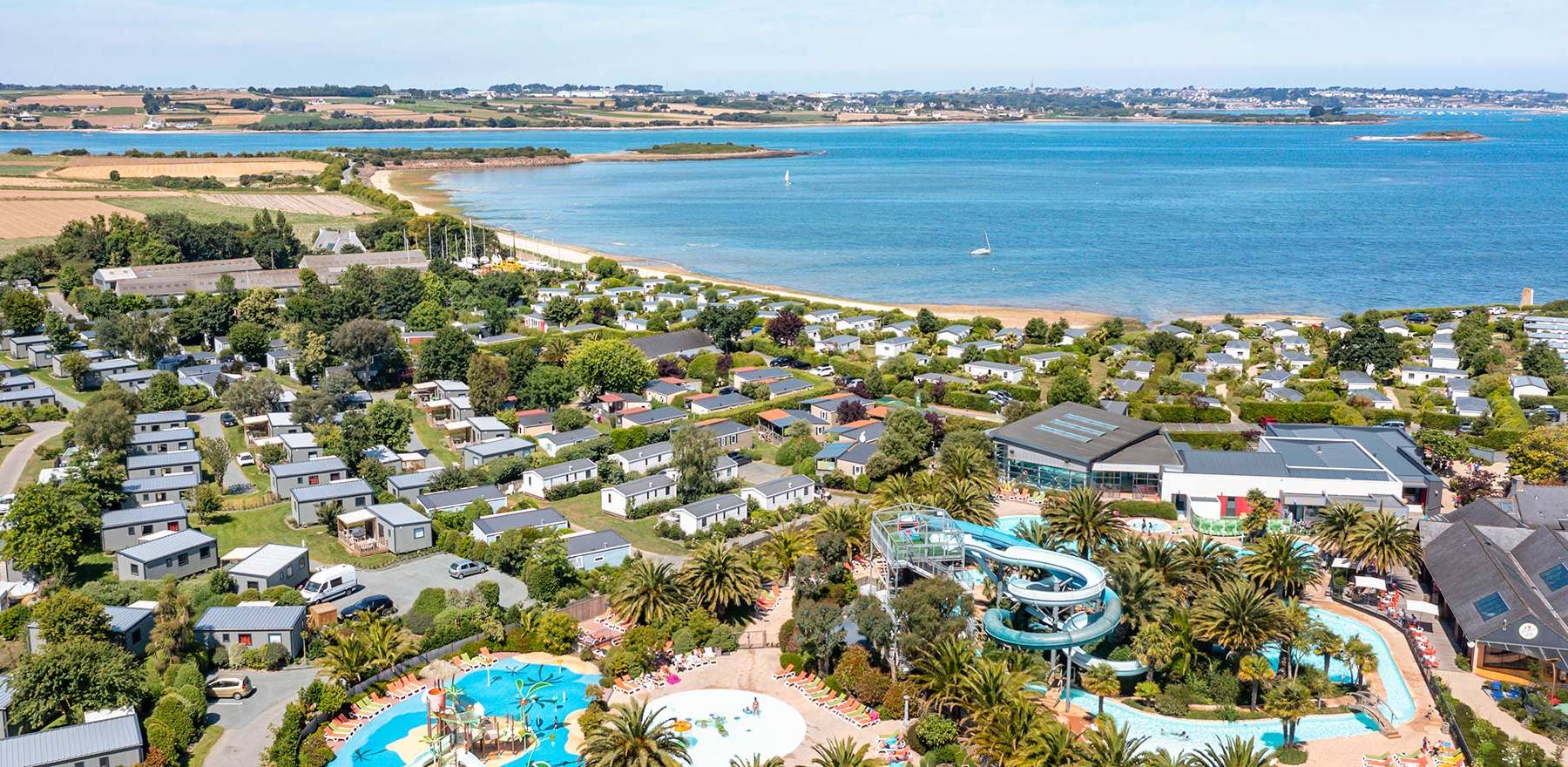 5 star campsite
The main advantages of a 5 star campsite are comfort and luxury. Imagine your holiday at a magnificent establishment offering spacious and high-quality accommodation facilities. Choose between a top-of-the-range mobile home, a luxurious cottage or a furnished lodge tent, for ultimate comfort.
Book at one of our 5 star Yelloh! Village campsites this year and enjoy a natural environment for your outdoor holiday. When you stay at a luxury campsite, you can rest assured that your expectations will be met. At our starred campsites, our teams take the utmost care of you, so you can simply relax and enjoy every moment.
5 star campsite rentals
The hardest part of your holiday is choosing the ideal campsite. Depending on what you're looking for, you'll find several styles of campsite: quirky campsites, eco-friendly campsites, traditional campsites, luxury campsites... there's an abundance of options to satisfy all holidaymakers!
How about a holiday synonymous with luxury and comfort this year? At Yelloh! Village, we aim to provide all the comfort you need and to fulfil all your expectations to guarantee a high-quality holiday. We therefore offer a vast selection of 5 star campsites in France, Spain and Portugal. So you can go on holiday, with family or friends, with full peace of mind and simply relax at one of our best holiday villages.
There's a wealth of destinations to choose from and we'd love you to join us for a breath of fresh air to recharge your batteries and savour a superb holiday. So take your pick from a stay in the mountains, a countryside escapade, or a break on the water's edge. Ready to chill out at a seaside campsite on the shores of the Mediterranean, the English Channel or the Atlantic Ocean? Then book your accommodation at one of our campsites with direct access to the beach, in a popular seaside resort. Take it easy as you top up your tan on the sandy beaches.
Other availability
Campsites closed during this period
Mobile home rental at a 5 star campsite
Naturally, you'll receive a warm welcome on arrival and can then settle comfortably into one of our top-quality rental units, ready to enjoy a tailor-made stay. Lounge by the swimming pool and unwind in the balneo area, spa or sumptuous wellness area that await you for a well-deserved break. In addition to a high-end service, our upscale campsites offer all the comfort and luxury you need.
You'll enjoy a high-quality mobile home plus a whole host of advantages... air conditioning, Wi-Fi access, new equipment, covered swimming pools, outstanding water parks, tennis courts... Yelloh! Village 5 star campsites  have covered every last detail to satisfy all your needs!
And that's not all! We've also thought of the most adventurous among you, who are keen to camp in a tent or come with a camper van – we offer spacious camping pitches, which can include private sanitary facilities. With this option, you can combine comfort with the joys of authentic outdoor camping. You can make the most of a natural setting and appreciate a real sense of escape. 
What can you do at a 5 star campsite?
At Yelloh! Village, we also want you to have fun! Our premium campsites therefore offer a huge range of services and an entertainment programme specially designed for the whole family's enjoyment. Spend your days taking part in the various activities such as dance, yoga, surf or aquagym classes.
If you're keen to burn off even more energy, some of our campsites have all the equipment you need for a good workout, including a weight room, multisports ground and outdoor apparatus, all available for your use.
Your children can have fun and spend all their days in the dedicated water parks, with water slides and paddling pools adapted to your youngest campers. They'll also be able to make new friends and really flourish, thanks to the sports, fun and creative activities supervised by our entertainers in children's clubs adapted to their age.
And to end your day, we have the ideal formula: sip on a cocktail on the bar's terrace and admire a beautiful sunset. Then, take a seat at a table in the campsite restaurant to savour a delicious meal.
Your campsite might be a luxury establishment, but you'll still find the warm and friendly atmosphere you naturally seek on any holiday. It'll be simply impossible for you to get bored at any time during your stay, with all the entertainment, evening events and spectacular shows organised by your hosts. There'll be magic shows, karaoke, cabarets and theme nights headed by our entertainment teams, as well as dance nights when you can strut your stuff on the dance floor!
And don't worry about your children – they too can make the most of their evenings at the mini discos organised by the children's clubs' entertainers. Now that's what you call an excellent family stay!
What types of accommodation are on offer a 5 star campsite?
 At Yelloh! Village, we like to give you the choice with a wide range of luxury accommodation options available at our 5 star campsites.
Luxurious cottages
Furnished tents
Cottages with private spa
Spacious mobile homes
Premium chalets
Camping pitches with or without private sanitary facilities
Accommodation for people with reduced mobility
As well as having a vast choice of accommodation, some campsites have created areas with special themes. This is one way of travelling without having to venture far!
What activities are on offer?
For a dream holiday, choose a Yelloh! Village campsite offering high-end activities and entertainment that will thrill campers big and small. Here are just a few ideas:
Fitness classes
Aquagym lessons
Handicrafts
Dance nights
Theme nights
Yoga classes
Dance classes
Shows and entertainment
Children's clubs
Fitness rooms
Tennis courts
What services are on offer?
A luxury campsite means quality services. Benefit from maximum convenience with a list of services included in your stay.
Free Wi-Fi access
Quality amenities
Air conditioning
Wellness areas
Bicycle hire
Convenience stores
Restaurants
Playgrounds
What are the advantages of a 5 star campsite?
Modern facilities
High-end accommodation
Comfortable camping pitches
Quality service
A wide range of entertainment
Large, covered swimming pools
Water slides
Now you know what a 5 star camping holiday looks like: fun, luxury and laughter! So go on, whether it's just the two of you or a gang of friends, discover our 5 star campsites and book your dream accommodation for an unforgettable holiday!
×