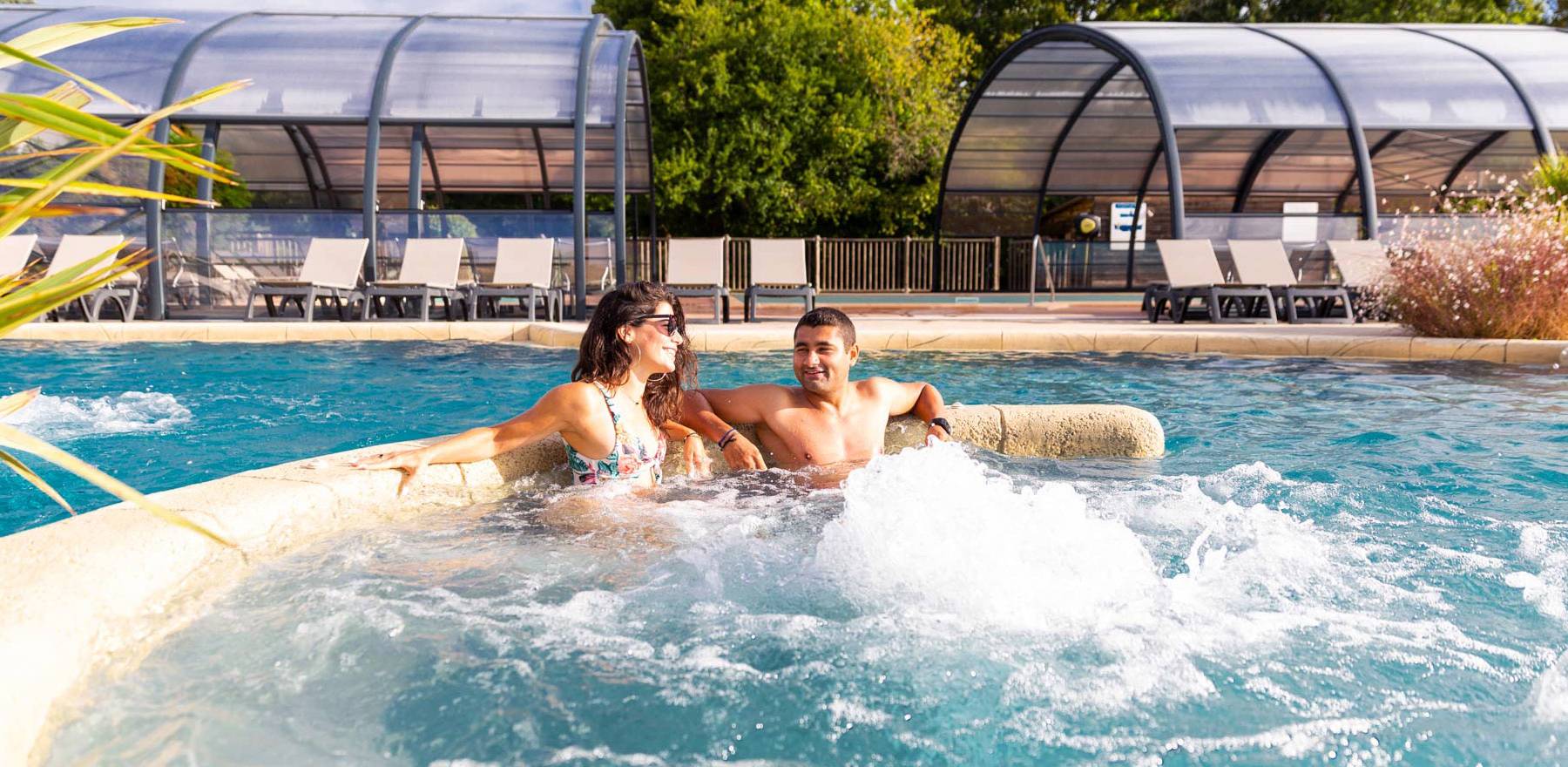 Everything for happy camping
Our Yelloh! Village campsites have thought of everything to make sure your holiday will be even more amazing. Entertainment from morning to evening, aquatic parks, activities for every age, convenient services and even areas for relaxation so you go home rested and revitalised... The most important for us? To see you really enjoy yourself during your holiday! And all that? With free and unlimited access! After all, that's what holiday happiness is all about! 
Amazing aquatic areas
The aquatic parks are always really enjoyed by holidaymakers choosing Yelloh! Village, and they are one of the things that will make your holiday a real success! Throughout your stay, these are always there for you to enjoy during opening hours, where you can enjoy the sun, the sun loungers, the water slides, the heated pools and more. Just come and relax next to the swimming pool!
Relaxation areas for your wellness
Your holiday wouldn't be complete without a bit of bodycare treatment: enjoy a bit of quality time being pampered, or relax in the Jacuzzi or hammam, or have a massage. There are all sorts of different ways for you to recharge your batteries during your Yelloh! Village holiday! An additional payment may be required for this activity.
Accommodation with every comfort
A good night's sleep is essential for a good start to the day! That's something we certainly understand here at Yelloh! Village and which is why we do everything possible to offer you high quality accommodation. Those who love authentic holidays can enjoy our fully-equipped furnished tents. Those in search of originality will adore staying in our unusual rental options: floating cottage, gypsy caravan, tree-house... You'll be spoilt for choice. And for those in search of serious luxury we offer accommodation with matching top-of-the-range services: end-of-stay cleaning, free Wi-Fi, sheets and towels included... So which is your type of holiday? 
Top-of-the-range services
When on holiday nothing is more important that your tranquillity! And with our high quality services, you'll have all you could want to make your stay as easy as possible. You'd like to know what awaits you? Read on to find out more! As soon as you arrive, you'll be welcomed by our staff with a happy smile and endless good humour. All through your stay, campsite reception will be your go-to address: useful information, anything you need to hire or borrow... Our facilities are also here to make your holiday even more awesome: restaurant, grocery store, bar, laundry... Smiles, relaxation and comfort will be the watchwords for your holiday with Yelloh! Village. 
More information on our free-of-charge facilities and the "à la carte" facilities
Activities every day!
Every day, there is a wide variety of activities available in all our campsites, including outings using shuttle services leaving from the holiday village, introductions to sports activities, relaxing activities and more. Everything is possible with Yelloh! Village!
Junior clubs for all ages
Whatever age your children are, they'll be able to enjoy made-to-measure activities: in every Yelloh! Village, children's clubs provide activities for all age groups*. Here, they can make new friends, enjoy creative activities and new sports, and just give parents a bit of time off! There are all sorts of good reasons to go for an activity club.
* See children's clubs by age group and by village
Wild evenings!
When the day ends, the central square of the village comes alive! Sit at a table, at the bar or in front of the stage and enjoy the show! There will be something for everyone: musical shows, real living pictures, cabaret evenings, variety shows, karaoke, dance shows with well thought out choreography... Get away every evening!
Entertainment throughout the season in the most of our campsites! In April as in July, the evenings of your holiday will take on a summer flavour thanks to the various events and shows. The mini club is open to keep your childrenbusy all day. You too can enjoy all the different activities on offer.
×