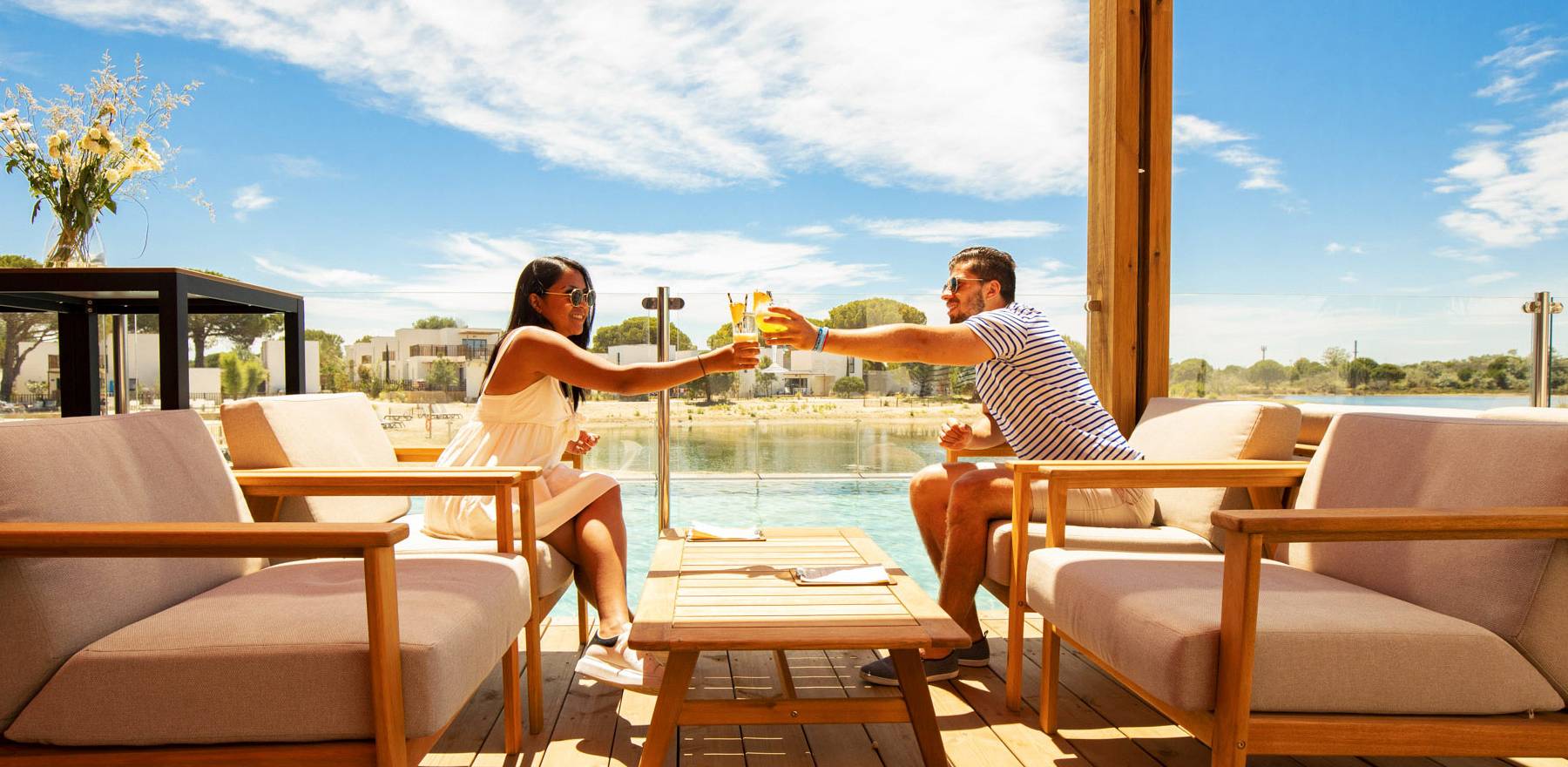 Tailor-made services for your holiday happiness
When camping, it's always important to think about yourself and what really makes you happy. And that's why all our campsites offer a wide choice of top-of-the-range services: all you need for meal-times, end-of-stay cleaning, high quality facilities, staff that really look after you... So yes, with Yelloh! Village, you'll be smiling all through your holiday. 
No administration fees!
The most important thing for us? Making you smile! So, to be sure you keep on smiling, Yelloh! Village is waiving its administration fees! It's time to book your next campsite holiday! 
Our services included!
Going on holiday with Yelloh! Village means you've got free-of-charge access to a whole range of services!
Entry to kids' clubs and children's entertainment
Sports grounds
Evening entertainment
Sports events*
Entry to aquatic park
Entry to public bathroom facilities
* apart from the ones for which additional charges apply
Our half-board package
Give yourself a break from cooking and enjoy a relaxed stay with lovely meals. The half-board package includes breakfast and a second meal (lunch or supper depending on campsite).
€7 per day for children aged 2 to 3 years
€19 per day for children aged 4 to 11 years
€30 per day for people aged 12 and over
"End of stay cleaning" service
For real peace of mind when you leave, choose the "end of stay cleaning" option which is dealt with by our staff. This means you'll really be able to enjoy your holiday right up until you leave!
From €95 per stay
Little bonus: "end of stay cleaning"  is provided free of charge in  rental options!
"Pitch preference" option!
Choose your pitch or rental accommodation and create your made-to-measure holiday: select your pitch number, your favourite area or your preferences, or choose side-by-side accommodation options!
From 40€ per stay and per pitch
All baby equipment!
No more overloaded car boots!
Make holidaying that much easier and hire your baby kit, which includes a high chair and a folding cot!
€6 per night and per kit (from the 8thnight, service offered free of charge)
Little bonus: baby kits are provided free of charge in and  rental options!
Household linen on site
So you can travel light and bring with you only what you really need, why not book your household linen on site?
Sheet hire (pillow case and sheet)
Towel hire (1 bath towel and 1 hand towel) 
With and accommodation, you can enjoy special benefits! Sheet and towel hire is free of charge!
For even more comfort and unconstrained holidays, Yelloh! Village provides a "beds made freshly on arrival" service (service offered depending on the campsite). All you have to do now is put down those suitcases and the holiday can begin!
Stay connected!
Enjoy your open-air holiday and stay in touch at the same time! Our holiday villages have Wi-Fi.
Prices vary according to villages.
In accommodation, this service is free of charge!
×