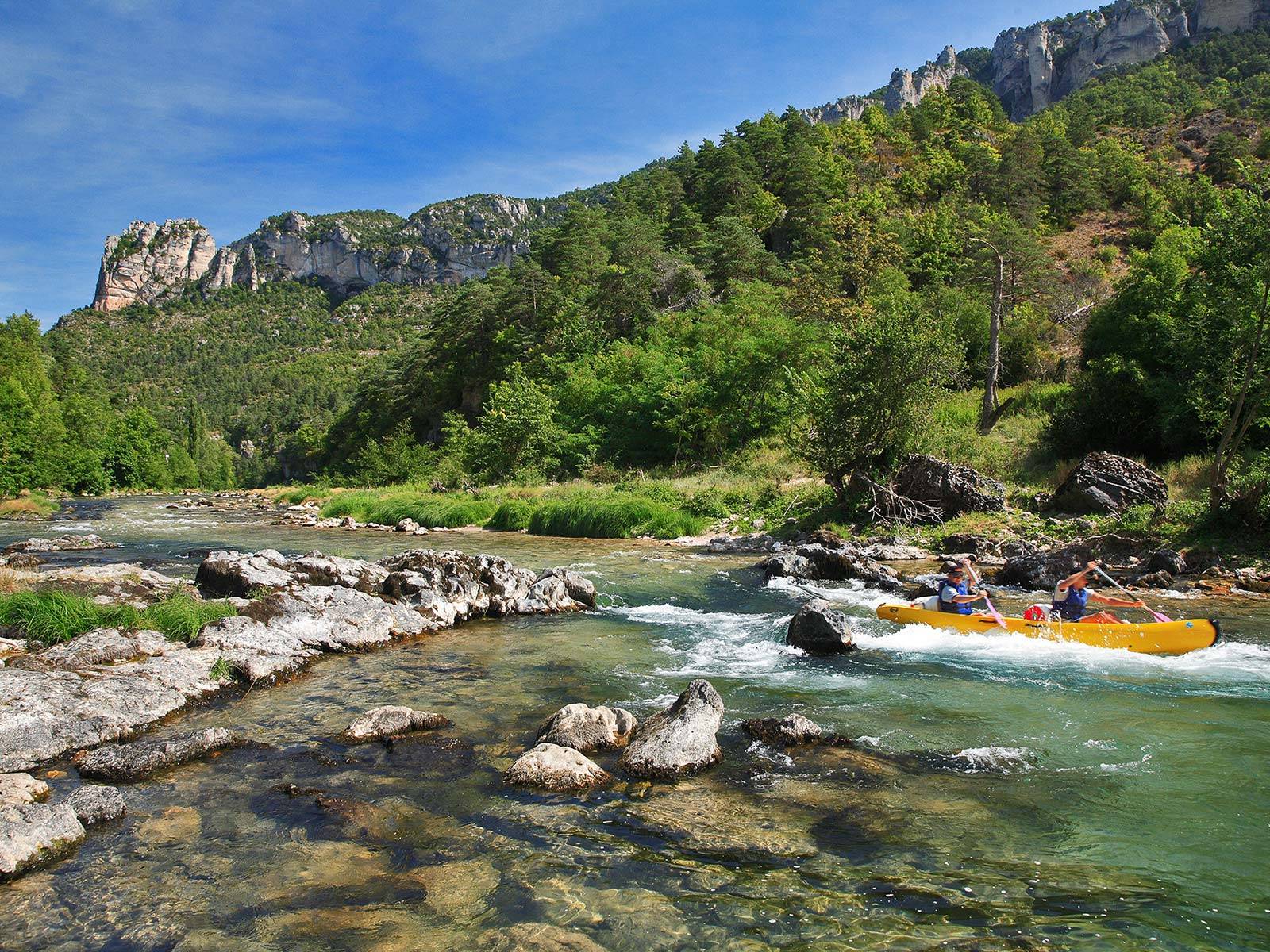 Camping Gorges du Tarn
Set off for some camping in the Gorges du Tarn, a top location for watersports and for enjoying the magnificent landscapes!
Camping holidays Gorges du Tarn
If there is one place in the Midi-Pyrénées that you really shouldn't miss, it's the Gorges du Tarn. Listed as a UNESCO World Heritage Site and located in the heart of the Parc Naturel Régional des Grands Causses, the Gorges du Tarn is an exceptional location where you'll be able to enjoy magnificent landscapes and extraordinary biodiversity. Step aboard a canoe kayak and set off down the Tarn River, which is by far the best way of exploring the majestic canyon through which it cuts, between the Causse Méjean and the Causse de Sauveterre. Stretching for around 53 km, when you set off for a camping holiday in the Gorges du Tarn, you can be sure of enjoying an unforgettable time with your family or friends in the heart of the countryside. And for people who feel happier being on terra firma, there are all sorts of other ways of enjoying the landscapes of the Gorges du Tarn. Various hiking trails are available for enjoying the area on foot, by mountain bike or on horseback.
Camping Gorges du Tarn
And as well as canoeing, the Gorges du Tarn also provide the option of enjoying various other watersports and outdoor sports. With canyoning, caving, rafting, climbing, via ferrata, bungee jumping and paragliding, come and get your fill of thrills and excitement! And if you fancy a break after all these activities, then you can stop off for a picnic beside the water or just enjoy the delights of bathing and fishing in the clear water of the Tarn.
Smile, we're searching for the very best for your holiday
Open from 02/05/2024 to 15/09/2024
Smile, we're searching for the very best for your holiday
Open from 12/04/2024 to 29/09/2024
Smile, we're searching for the very best for your holiday
Open from 06/05/2024 to 02/09/2024
Other availability
Campsites closed during this period
×