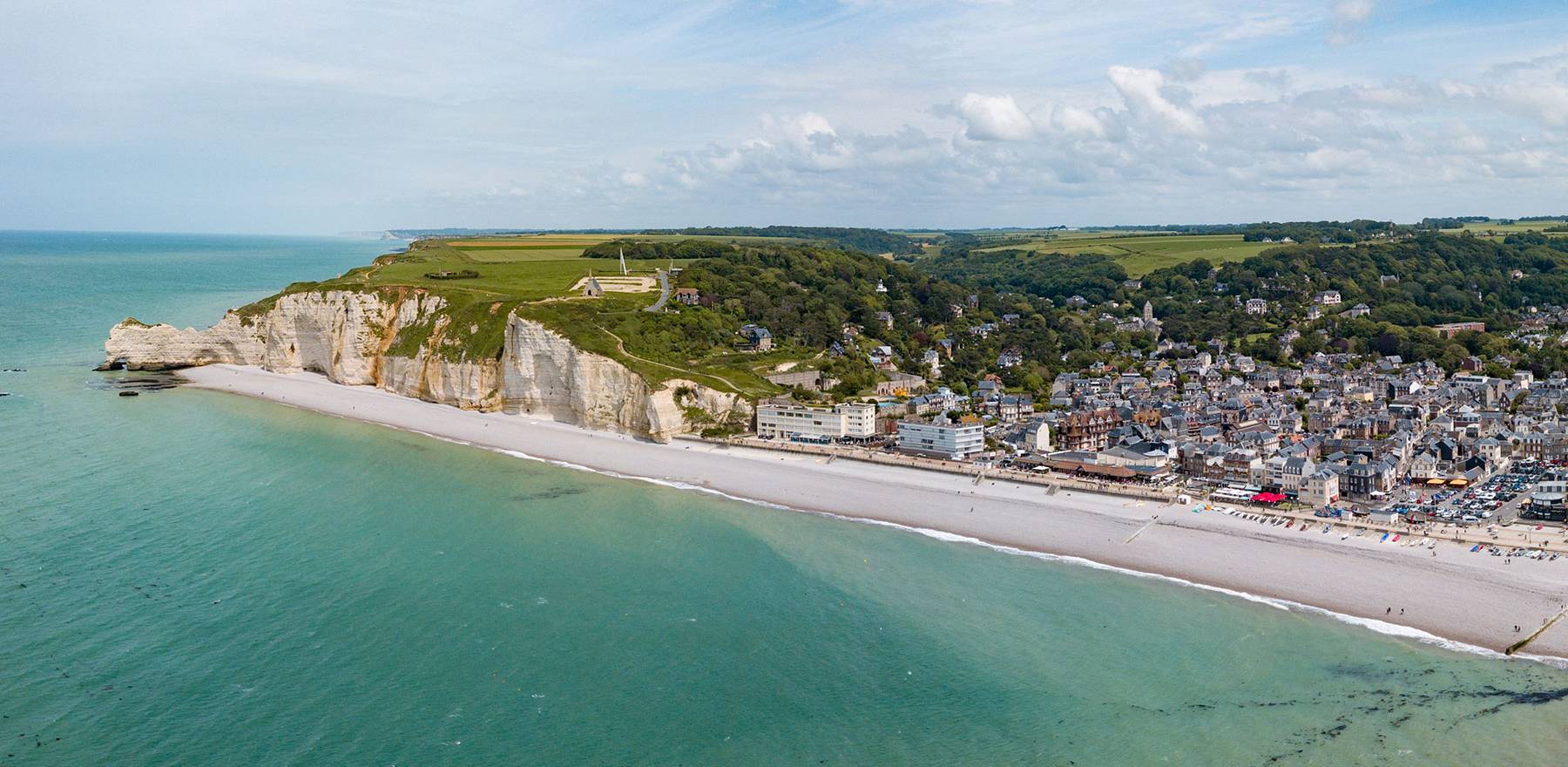 Camping in Normandy
If you love bucolic landscapes, pretty little villages and great food, then look no further: Normandy is your destination of choice. With its historic heritage, long beaches and rolling green countryside, this region will amaze you.
Campsite rentals in Normandy
Above all, Normandy is known for its natural heritage and will wow you with its picture-postcard landscapes, majestic gardens and towering cliffs. Here, land and sea are of equal prominence, and you'll be enchanted by the region's atmosphere during a stay to remember. Spend time in Normandy with Yelloh! Village and you'll forge some wonderful memories of a truly happy holiday. Normandy is a beautiful region teeming with history and ideal for visitors of every age.
From the coast to the inland areas, from the coastal cliffs to the banks of the River Seine, the Normandy region offers a whole spectrum of landscapes you should see at least once in your lifetime. Stop over at the region's ports, visit the D-Day landing beaches and explore its UNESCO World Heritage sites.
Your search results: 3 Campsites
Camping Normandie
Mobile home rental in Normandy 
What better for a family stay in Normandy than renting a mobile home at one of our campsites? Enjoy the combination of indoor comfort and outdoor space, with a terrace from which to admire the view out in the fresh sea air. As well as the many activities on offer in the surrounding area, you can make the most of the campsite amenities as you bask in the Normandy sunshine. Outdoor swimming pool or covered pool, balneo pool, water park... there are so many ways to enjoy the water during your stay beside the sea. The Channel also boasts ideal conditions for bathing and is the perfect place to try out something new, such as sand yachting, stand-up paddleboarding or sea kayaking.
Do you prefer being immersed in nature for an outdoor holiday or setting off for a stay in a camper van? Take your pick – our 4 or 5 star campsites have plenty of pitches, some of which have their own private sanitary facilities. A great way to enjoy real convenience in a truly lovely setting.
A holiday in Normandy with Yelloh! Village is also the guarantee of optimal comfort, quality services and great food options. And of course, reception is always ready to help from the day you arrive to the day you leave!
There is also an array of activities on offer in our holiday villages, both during the day and in the evening. Your youngsters will be able to make lots of new holiday friends and have fun at the free children's clubs at our campsites.
What can you do while camping in Normandy?
Are you planning your next camping holiday in Normandy? Excellent decision! With its impressive historical, cultural and natural heritage, Normandy is full of surprises and ideal for a rural getaway. There is no shortage of activities here and you'll love visiting every corner of the region. Keen hikers will be pleased to find so many spots and waymarked trails. In fact, the whole region can be explored on foot or by mountain bike so get ready for some wonderful excursions in the land of the Normans. Follow the GR223 pathways along the coast and stop off on the five iconic D-Day landing beaches, places where emotions still run high and which have become symbols of peace throughout the world.
A stay in Normandy is also a chance to sample some excellent cuisine. Good food is a big deal in the region. Normandy is, of course, renowned for its cheeses – Camembert, especially – and its apples, but there are plenty of other treats to tuck into. If you enjoy shellfish, you'll be able to feast on the delicious oysters and scallops. Local specialities include the andouille de Vire smoked sausage or the Caen-style tripes. These meals can, of course, be accompanied by a delicious glass of cider. Or how about the traditional Trou Normand palate cleanser, a custom that involves drinking a small glass of neat Calvados between dishes to aid digestion and restore your appetite.
After your culinary adventures, you'll be ready for a tour of Normandy's most beautiful places. Keen to see some greenery? Visit the various gardens in the region for a unique and spectacular array of plants. Start with the Jardins de Castillon, then head to the Calvados to visit the gardens at the Château de Brécy and the Jardin des Oubliées garden of 'forgotten roses'. In Normandy, you can certainly admire a stunning floral display. To continue your discovery of the wonderful scenery, head for the Needle of Étretat, a magnificent natural monument that rises from the sea and is listed among the most beautiful cliffs of France. Your camera will be a must on this trip! 
To end your day, it's time to head to the Mont-Saint-Michel and its famous abbey for a truly unique vision. It's worth noting that in summer, there's a sound and light show in the abbey at night. Round off the day with a flourish before this spectacular sight! 
What are the sightseeing attractions in Normandy?
The Normandy region is abounding in sights to see and discover. To be sure you don't miss a thing, here's a list of the most beautiful places to visit during your stay in one of France's most beautiful regions.
Mont-Saint-Michel Abbey
D-Day Landing Beaches
Cathedral of Notre-Dame in Rouen
The cliffs and gardens of Etretat
Bayeux Cathedral 
Le Haras du Pin national stud
The cliffs of the Côte d'Albâtre
The Côte Fleurie
The Côte de Grace
Carteret Cape
The Château de Caen
What are the activities on offer during a stay in Normandy?
Take advantage of your stay to explore this lovely region. Here you'll find a vast selection of fun, sporting, creative or amusing activities, the ideal way to have a great time, alone or with others.
Utah Beach Landing Museum
Caen Memorial Museum
The American Cemetery
The Botanical Garden in Caen
Claude Monet's gardens and house
La Cité de la Mer maritime museum
Jurques Zoo
The Jardin des Plantes (botanical garden) in Rouen 
Château de Carrouges
The Bayeux Tapestry Museum
The Airborne Museum
An introduction to gliding
Which are the most beautiful beaches in Normandy?
The beaches of Normandy, ranked among the most beautiful in the world, can be grandiose, wild or historic, so make time for a visit.
Omaha Beach
Quiberville beach
Hermanville beach
Sword Beach
Plage de la Potinière beach in Carteret
Plage d'Antifer beach west of Etretat
Juno Beach
Plage du Tilleul 
Plage du Petit Ailly at Varengeville-sur-Mer
Gold Beach
Fécamp beach
Étretat beach
The Chausey islands
Which are the most beautiful villages?
Normandy is famous for its picturesque villages. So set off to discover them to give your holiday a unique Normand flavour!
Grandcamp-Maisy
Varengeville-sur-Mer
Barfleur
Le Bec-Hellouin
Lyons-la-Foret
Saint-Vaast-la-Hougue
Le Mont-Saint-Michel
Bellême
Beuvron-en-Auge
Saint-Céneri-le-Gérei
Cotentin
Le Bec-Hellouin
Stroll through these villages brimming with Norman charm, some of which are ranked among "the most beautiful villages in France". This is a wonderful way to unwind and enjoy the countryside during your holidays.
Which are the most beautiful towns in Normandy?
Discover the delightful towns of Normandy, highly popular with tourists. They are teeming with charm and are well worth the trip.
Caen
Rouen
Le Havre
Cabourg
Honfleur
Deauville
Trouville
Villers-Bocage
Tilly-sur-Seulles
Fécamp
What are the main events nearby?
Normandy is buzzing with events, sports competitions and shows all year round. Here is a sample of the entertainment you can enjoy during your stay.
Granville Carnival
The Jazz sous les Pommiers festival
The Armada of Rouen
The Prix de Bayeux-Calvados-Normandie photography awards
The World Carriage Driving Championship
Caen Carnival
D-Day commemorations
The European Eventing Championships
What are the culinary specialities in Normandy?
Travel around the Normandy terroir and indulge yourself with a tasting of the many culinary specialities.
Camembert
Cider
Normandy-style cutlets
Black pudding
Salt marsh lamb
Mère Poulard's omelette
Livarot
Milk jam
Normandy apple pie
Teurgoule (similar to rice pudding)
Isigny caramels and cream
Sample all these specialities for an exquisite experience – trust us, your tastebuds will thank you!
You now have all the info you need for a fabulous stay in one of the most beautiful regions of France. All you need to do now is book and savour your stay. We know you'll head back home with a heart full of special memories. Happy holidays! 
To explore
×