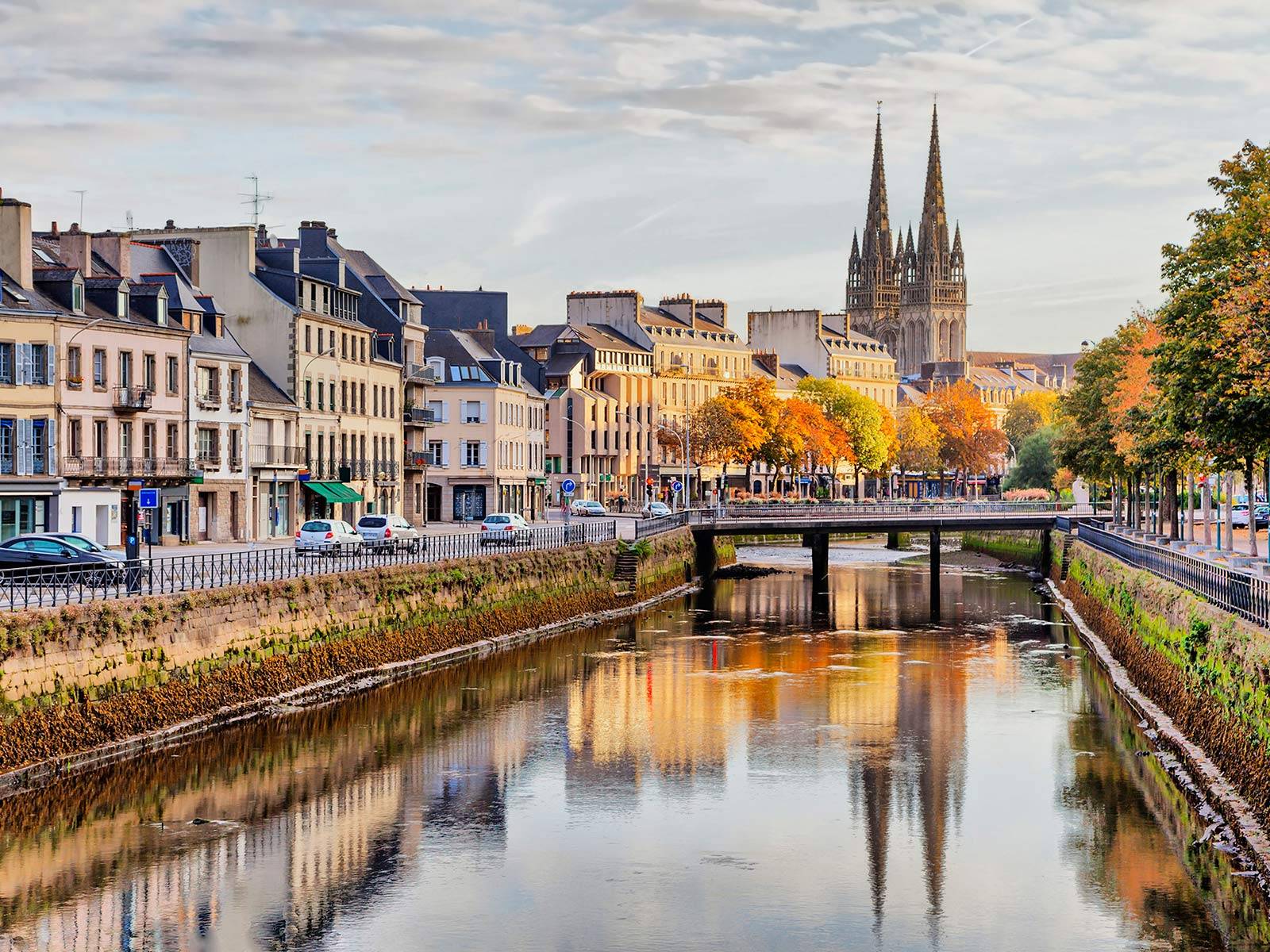 Camping Quimper
Make the most of your holiday by exploring Quimper, Brittany's legendary symbol, the main town of Finistère, which has France's Ville d'Art et d'Histoire status.
Quimper, in Finistère, is also the main town of the Pays de Cornouaille. When you set off for a camping holiday in Quimper, you'll discover a town with an extremely rich architectural heritage, with the Odet river running alongside, which is considered to be France's loveliest river due to the variety of country houses, châteaux and wonderful forests which it flows by. The town of Quimper is also listed as a "Ville d'Art et d'Histoire".
Your search results: 3 Campsites
The Yelloh! Village campsites nearby
Camping holidays Quimper
When you come on a camping holiday in Quimper, don't forget to visit the sumptuous cathedral of St Corentin, which symbolises Gothic art in Brittany, and the Palais des Evêques, which is currently home to the Musée Départemental Breton.
Quimper is a town full of character, surrounded by ramparts and with traditional, timber-framed houses which you're sure to just love. But Quimper is also a garden town which has often won awards. These include the Jardin de la Retraite, which encompasses an area of half a hectare, the Jardin du Théâtre Max Jacob, the Jardin du Prieuré de Locmaria and the Jardin de la Paix. While some people will enjoy just wandering around one of these gardens, others will relax in the Créac'h Gwen leisure area. All sorts of activities are available here, which people of all ages will enjoy. With games for the kids, health trails, canoes, kayaks, skateboarding, tennis and various watersports, you'll have a wealth of alternatives to choose from.
Camping Quimper
A cultural hotspot, the town of Quimper also has various museums and theatres. So while you're here, come and visit the Musée des Beaux-arts, le Quartier (a contemporary arts centre), the Musée de la Faïence, which highlights the prominence of earthenware within Quimper for more than 300 years, and the Musée de l'Alambic. You should also check out the Théâtre de Cornouaille and the Théâtre Max Jacob.
You'll love wandering up and down its lively shopping streets, and you should pay a visit to the markets in Quimper too, the Halles de Saint François being the most well known. When you come on a camping holiday in Quimper, you'll quickly find that Quimper is, above all, a dynamic town. 
×