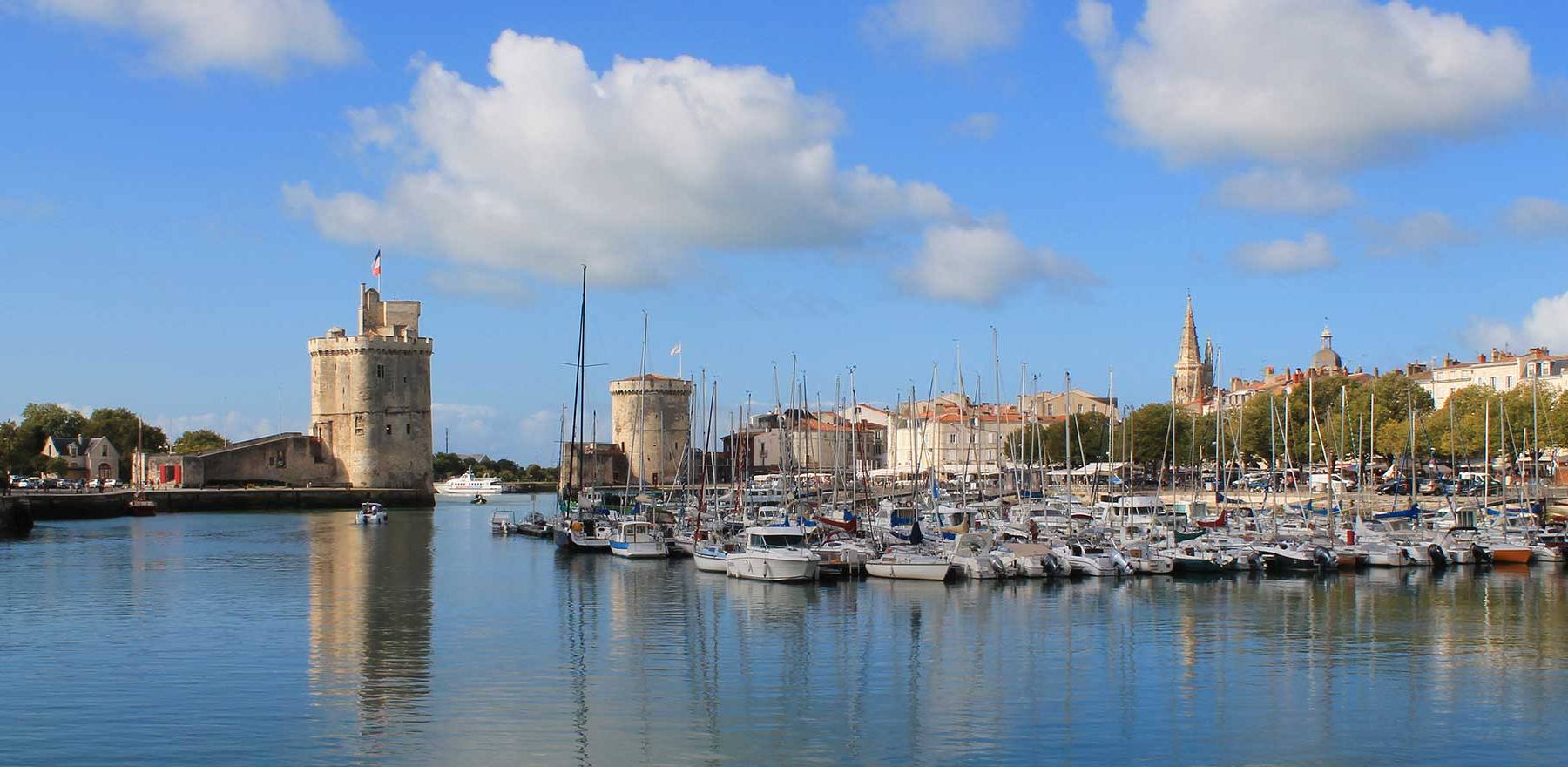 Camping La Rochelle
For an unforgettable holiday, book your stay near La Rochelle, a city of charm, history and culture. Enjoy a camping holiday in the region to experience everything La Rochelle has to offer.
Your search results: 3 Campsites
Campsite rental in La Rochelle
La Rochelle, a port city on the west coast of France, is a popular tourist destination and a great place to visit during your camping holiday in the region. This popular city is known for its picturesque charm, its history, its cultural vibrancy, but also for its marina, which welcomes many yachts and boats each year. During your camping holiday near La Rochelle, you can admire one of the city's most iconic sites: the famous medieval towers, located at the entrance to the port. Whether you're interested in history, culture, music or water sports, don't miss the chance to visit La Rochelle during your family holiday near the Atlantic Ocean. 
Mobile home rental in La Rochelle
Enhance your stay by renting a mobile home at one of our campsites near La Rochelle and savour every moment. With its breath-taking views and long sandy beaches, the Porte Océane, the gateway to the ocean, will fill your holidays with happiness and new discoveries. By staying at one of our 4- or 5-star campsites near La Rochelle, you'll enjoy the highest level of comfort offered by your hosts, close to the sea or in the surrounding countryside. Choose to spend your family holiday in a luxury mobile home, equipped with all the necessary features, or more experienced campers may opt for a premium camping pitch, which can be equipped with private toilet facilities.
You can also take advantage of the many services and activities available at the campsites such as children's play areas, outdoor or indoor swimming pools, numerous water play areas and bars and restaurants. There's something for the whole family!  
If you're interested in exploring this magnificent city and its surrounding area, as well as natural landscape, our Yelloh! Village campsites are an excellent option.
Did you know…?
La Rochelle was one of the main centres of salt production in France in the 17th century. Indeed, the city had access to salt marshes along the Atlantic coast, which were used to produce salt through the evaporation of water. Although salt production is no longer as important as it once was, La Rochelle still has some salt marshes and continues this tradition. Visitors can learn about this activity by visiting local museums and taking guided tours. 
What to do when camping in La Rochelle
While on holiday near the Atlantic Ocean, make sure you pay a visit to La Rochelle, nicknamed the 'white city' after the brightness of its limestone buildings, even when the sun isn't shining. Begin your visit to the capital of Charente-Maritime with the famous towers which date back to the medieval era, known as the Chain Tower, Saint Nicolas Tower and Lantern Tower, and which today house the maritime museum. All three towers served a protective and defensive function for the city. A visit to the towers offers an opportunity to learn more about the history of the city and admire a magnificent view of its old port.
La Rochelle also has a rich architectural heritage, with many historic buildings in its city centre. Spend some time exploring the old town, where you'll pass the Grosse Horloge, the clock tower, which is the oldest monument in La Rochelle. Continue your exploration of the city centre and visit Place de Verdun, surrounded by magnificent arcades, and go to Rue du Palais to admire the sumptuous private mansions, dating back to the 17th century.
After marvelling at the historic centre, head to La Rochelle's old port, a pedestrianised area where visitors love to stroll. During the day, sit on a terrace along the Quai Valin and come back in the evening to see the city all lit up. A beautiful setting! For another way to discover the city, try your hand at a Harry Potter-themed outdoor escape game. Enjoy a fun and entertaining experience with your children.
Finally, take your family on a tour of La Rochelle Aquarium, located opposite the old port and recognised as one of Europe's largest aquariums. You'll be amazed by the 12,000 sea creatures representing the biodiversity of the Atlantic Ocean, the Mediterranean Sea and the tropics on display in 82 tanks.
The ultimate maritime city, La Rochelle also offers you the chance to travel across the ocean to visit numerous islands such as Île de l'Oléron, Île de Ré, Île d'Aix and the famous Fort Boyard. An escape from the city that will provide unforgettable memories. Set sail on a catamaran, sail boat or speedboat for an incredible nautical adventure!
A port city means fresh fish. Head to Les Halles market to sample the local specialities. Fishmongers, greengrocers and wine merchants will be there to help you discover high-quality products! You must, of course, try the clams and the famous cagouilles farcies, (stuffed snails), two authentic specialities of La Rochelle.
Interested in doing some sport during your holiday? Travel the 100 km of cycle paths in the La Rochelle urban area for energetic, rejuvenating bike rides along the Atlantic coastline. Spend a day in the great outdoors and go for a walk in Parc Charruyer, referred to as the 'green lung' of La Rochelle. This park, which is crossed by a canal, is popular with tourists and runners, all of whom enjoy pacing its flower-lined paths.
Tourist attractions to visit
With friends, family, or as a couple, discover La Rochelle and its surrounding area, then admire the many must-visit tourist attractions:
Fort Boyard
The Bunker of La Rochelle
The Grosse Horloge clock tower
The three medieval towers
The old port
Place de Verdun
Parc Charruyer
Centre Intermondes cultural centre
La Cité de l'Huitre (oyster discovery centre)
Château de Buzay
Château de la Roche Courbon
The various islands (Île de Ré, Île d'Aix, Île d'Oléron)
Activities to try when camping in La Rochelle
A city steeped in history, La Rochelle offers a wide range of activities to enjoy with family or friends, by land, air or sea.
Visit the Aquarium
Segway tour of the city
Watch a Stade Rochelais rugby match
Take a helicopter flight over La Rochelle
Surfing
Land sailing
Try kitesurfing
An introduction to diving
Musée de La Résidence Des Indes (museum based in a merchant mansion)
Musée des Automates (museum of automated models)
Musée du Nouveau Monde (museum recounting France's links with America)
Les Halles market
Maritime Museum
Marais de Tasdon nature reserve
Natural History Museum
The best beaches in La Rochelle
La Rochelle has many fine sandy beaches to explore. Here's a brief overview of the very best options.
Plage des Minimes
Plage de la Concurrence
Plage Chef de Baie
Plage de Châtelaillon
Plage de l'Houmeau
Plage d'Aytré
La Platère in Angoulins
The culinary specialities of La Rochelle
Visit La Rochelle to sample the many exceptional dishes and specialities from the region and the city itself. Here are a few must-try local products that will appeal to those with refined palates and even the most experienced foodies.
Clams
Cagouilles farcies (stuffed snails)
Crépinettes aux huitres (sausage with oysters)
Charentaise mouclade (creamy curried mussels)
Galette Charentaise (buttery cake)
Cornuelle (traditional triangular-shaped biscuit)
Daube Saintongeaise (beef stew)
Key events in La Rochelle
La Rochelle hosts many nationally and internationally recognised festivals and events.
Les Francofolies de La Rochelle music festival
International Film Festival
International Adventure Film and Book Festival
TV Drama Festival
Jazz Between the Two Towers Festival
As you can see, with plenty of events and food tasting opportunities, La Rochelle is the ideal destination for a holiday with family or friends. Book your stay now and get ready for an adventure in Charente-Maritime!
×