This Christmas, offer your loved ones the Yelloh! Village experience
This Christmas, offer your loved ones the Yelloh! Village experience
See on map
See on map
A unique camping experience with Yelloh! Village campsites
So, which will be the destination for your campsite stay this year? You'll be off to France, Spain or Portugal? Or there again, you could even choose a camping in all 3 countries! Rent your mobile home or pitch. Here with Yelloh! Village campsites you'll be smiling from the beginning right until the very last minute.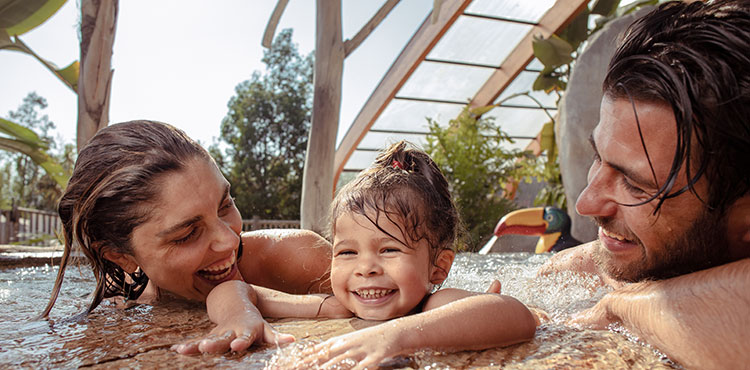 Our promise: to make you smile
1, 2, 3, Dive!
Whatever type of holiday you're looking to enjoy with your family or friends, Yelloh! Village has the answer. Make the most of the fun of the water when you come and stay by the Mediterranean or on the Atlantic coast.
And you also have the choice of sleeping beside a lake or a river! If you're looking to recharge those batteries right up close to nature, then you can choose our campsites in the countryside, or in the mountains, where you'll really appreciate the benefits of staying somewhere up high.
A paradise for children
Your children will be able to make the most of all the facilities provided by Yelloh! Village, including the aquatic parks with waterslides and the kids clubs for all age groups. Our 4 clubs will be here to make sure your children enjoy a truly unforgettable holiday. Depending on your needs, you'll find campsites with babies clubs for children up to the age of 4, kids clubs for 5 to 7 year olds, juniors clubs for 8 to 12 year olds and teens clubs for 13 to 17 year olds.
Parents haven't been forgotten either, thanks to our activity leaders who will be organising sports activities for you throughout the day, along with entertainment in the evening. You'll be able to relax, whatever the weather, in our aquatic parks with covered and heated swimming pools, or chill out in a spa.
Choose the best
With our wide range of rental options (mobile homes, furnished tents, cottages, tree cabins, chalets, gypsy caravans etc.) come and discover - or rediscover - the delights of camping for your next stay.
You'll be able to make the most of the upmarket services in our 3, 4 and 5 star establishments. Customer satisfaction is what drives us, which is why our villages are subject to a quality charter made up of more than 500 points, which are inspected every year.
×