Free cancellation right up until D-2 before arrival for a selection of accommodations options! ─ Find out more
Find out about the areas at the Yelloh! Village Le Soleil Vivarais
In the very heart of the Ardèche, just a step away from the famous UNESCO world heritage Gorges, unpack your suitcases in one of our two charming areas at the camping Le Soleil Vivarais. These areas both lie alongside the river, which means you'll be able to enjoy a waterside holiday that's fit for a king! So, which will you choose for your best ever holiday? The La Rivière area or the Les Jardins area?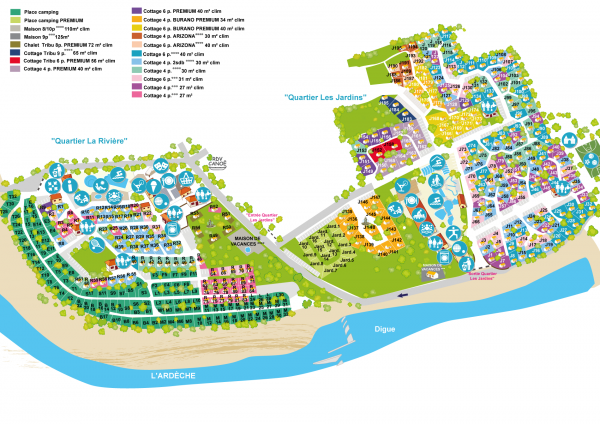 La Rivière area
Welcome to the La Rivière area! In this lush area of greenery alongside the River Ardèche, make the most of the peaceful pastoral setting during your holidays here. Featuring large plots for camping pitches with all sorts of creature comforts in the heart of the nature, infrastructures and facilities that combine relaxation and practicality, and all within a stone's throw of the water, you really will find everything you need in the La Rivière area:
Bathing area: a large Balinese pool with heated swimming pool, Jacuzzis, solarium terrace, heated paddling pool and more
Sports and activities: pétanque, tennis, ping-pong, playground, show stage etc.
Facilities: "Ma Cantine Ardéchoise" restaurant and pizzeria with wood-fired oven, bar-ice cream parlour, Vival supermarket, laundry.
Rental accommodation: upmarket accommodation options from to and pitches.
Les Jardins area
In the Les Jardins area, you'll experience holidays with all the mod cons in a really nice atmosphere! Bathing in the big aquatic complex, a wide range of luxury accommodation options, a relaxation area and a feast of entertainment options for the whole family, plus plenty more! Children and parents, young and not-so-young; no-one will be left out! So find out about everything awaiting you in this lively area with its landscaped and flower-filled setting as soon as you can:
Bathing area: an aquatic complex with fun swimming pool and paddling pool, both moderately heated, whirlpool baths, massage jets, waterfalls and waterslides, together with a covered, heated pool with its own balneotherapy area: jacuzzi, massaging square, anatomical seating... And aquasport: aquabike, aquastep, aqua-elliptical trainer...
Sports and activities: "Le Palapa" fitness lessons, pétanque, multisports ground, sports hall, Kids' club, Juniors' club, Teens' club, playground etc.
Facilities: restaurant "Le Chill", bar, ice cream parlour, laundry.
Wellness: Payot spa and balneotherapy area with hammam, sauna, Jacuzzi, body treatments and facials, massages, booths for two people, sensory and Scandinavian showers, OPI nail bar, maicures and pedicures etc.
Rental accommodation: upmarket accommodation options from to .
×