Family camping rentals, holiday village for children and teenagers
At the Yelloh! Village Lous Seurrots, your children will take benefit of an exclusive setting, surrounded by sea, dunes, and river. As well as a pretty beach nearby and of a huge aquatic area designed for them. They will enjoy the Lous Ptichoun's area to practice sports and activities supervised by our entertainers.
Special Babies : 0-4 years
Throughout the season
A space designed specifically for babies to play in, supervised by their parents. Everything that little ones love!
changing table
ball pit
games
Club Kids: 5-7 years
Throughout the season
Try something new, make friends, take part in sports or make discoveries? The Kids Club, with its entertainment team, is there morning and afternoon!
handicrafts
outdoor team games
introduction to sporting activities
treasure hunt
discovery of regional fauna and flora
hut construction
preparation of a show
Club Juniors: 8-12 years
Throughout the season
Your kids' camping holidays will be unforgettable thanks to the Juniors Club! Morning and afternoon, it ensures they really make the most of their stay.
sporting activities and handicrafts
outdoor team games
treasure hunts
sporting tournaments
hut construction
preparation of a show
Club Teens: 13-17 years
Throughout the season
The Teens Club is perfect for teenagers on holiday! An extensive choice of activities with something for everyone.
surfing, paintballing, canoeing, rope park
disco, casino
artificial turf football pitch
basketball
beach volleyball
Mini clubs
Your children have access to the array of activities provided by our entertainment team. Priority is given to outdoor games, discovery and early-learning activities, workshops, etc... This will be an opportunity for them to make new friends and learn while playing because holidays mean exploring and sharing.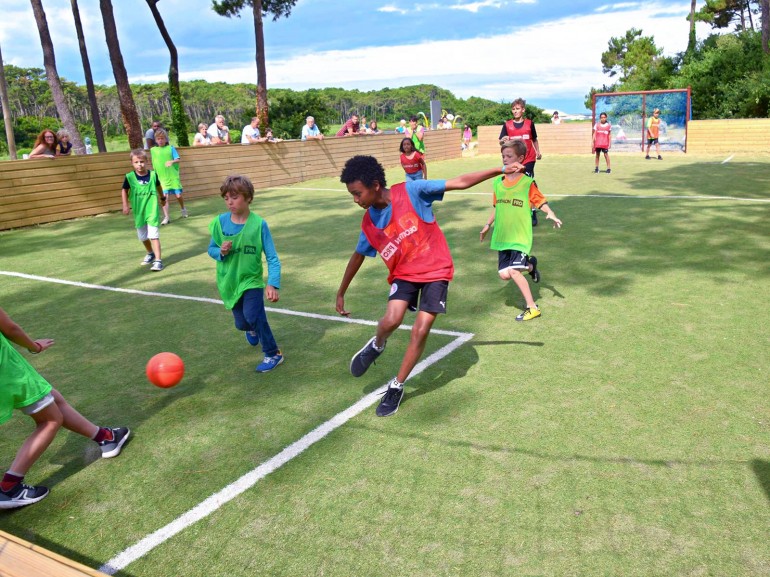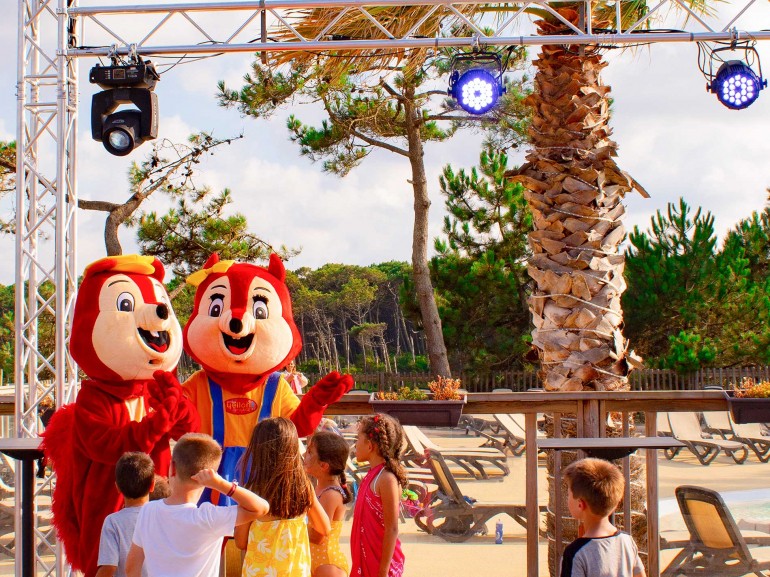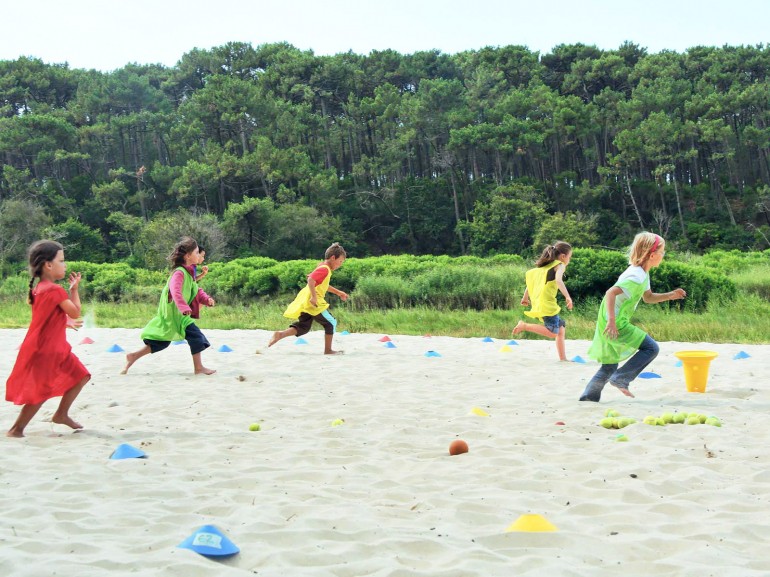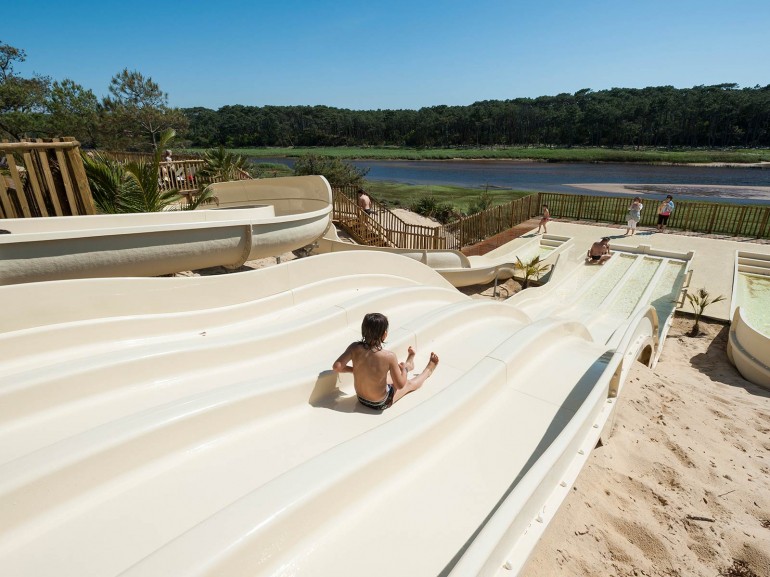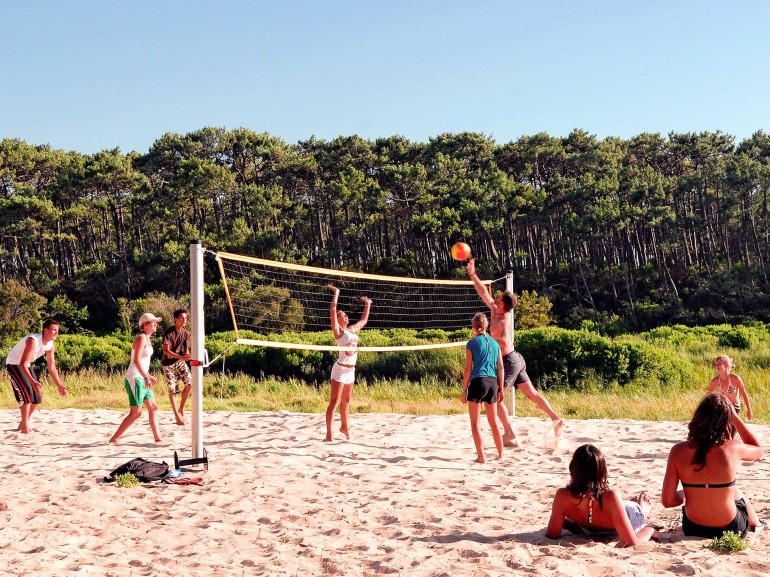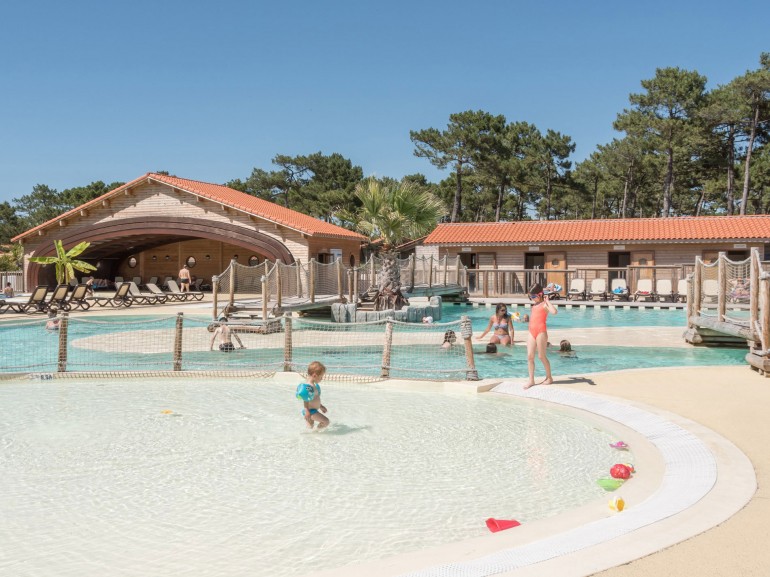 Our facilities for all ages
You'll find child-sized facilities, geared to your children, on the premises. A heated paddling pool, baby cubicles, and play areas.
Kids' Clubs opening times
Kids' clubs are open throughout the season:
Kids' and Juniors' Clubs:
- During low season: 
Open from Monday to Saturday, 10am to 12 midday and 3pm to 5pm
Friday and Saturday, mini disco at 8 pm (subject to changes)
- During high season:
Monday to Friday: 10 am to midday and 3.30pm to 6pm (subject to changes)
On Sundays late afternoon come and meet the kid's ckub staff
Teens' Club:
During low season: Wednesday to Sunday : afternoons and evenings
During high season: Monday to Friday : afternoon and evening
Pierre's day, 9 years old
8am
I wake up in a lovely cottage next to the Courant de Contis, and spot several rabbits hiding behind the bushes. Matéo - my big brother - and Dad have gone for a jog, and will bring us back some warm bread and croissants from the supermarket, to start the day right. 
2pm
I go to the beach with Mum and Dad - it's only 500m away from the campsite - while Matéo and Océane go off to treetop adventure park with the teens' club.
5pm
Mum and Océane have come to watch our dress rehearsal before going on to their Latin dance class. Dad's finished his nap, and has now teamed up with Matéo for a boules match.
9pm
The show went brilliantly, and now we're watching the organisers' show, it's really funny!
11pm
The show has finished. I've danced so much that I'm really tired. Dancing on this campsite is totally cool. I want to get to bed now, to be up and ready for tomorrow: climbing and a nature day!
×