Family holiday in Parc Du Val De Loire
Your children will love the kids' clubs at Camping Parc du Val de Loire. In a lush, green setting, your children will be able to enjoy fun, creative and sporting activities throughout the season! 
Special Babies : 0-4 years
Throughout the season
Babies and toddlers even get their own club! With the campsite's Babies Club, they get a special room for use under their parents' supervision.
secure, heated room
matted floor
ball pit
early-learning games
Club Kids: 5-7 years
Throughout the season
Discovery area for play, laughter and activities! The Kids Club offers your children a wide choice of activities during their stay.
creative workshops (mask making, Scoubidous, paper lanterns, musical instruments, etc.)
painting workshops
scrapbooking
outdoor games (treasure hunt, sporting contests)
musical games
campsite dance
mini disco
end-of-holiday performance
Club Juniors: 8-12 years
Throughout the season
Children get an entertainment club just for them! The Juniors Club offers something for everybody!
sporting tournaments (table tennis, mini-golf)
board games
musical games
outdoor games (campsite discovery, treasure hunt)
creative workshops (face painting, painting)
campsite dance
mini disco
end-of-holiday performance
Club Teens: 13-17 years
High season
Even teenagers can enjoy their own kind of holiday! 
teen mobile home
games room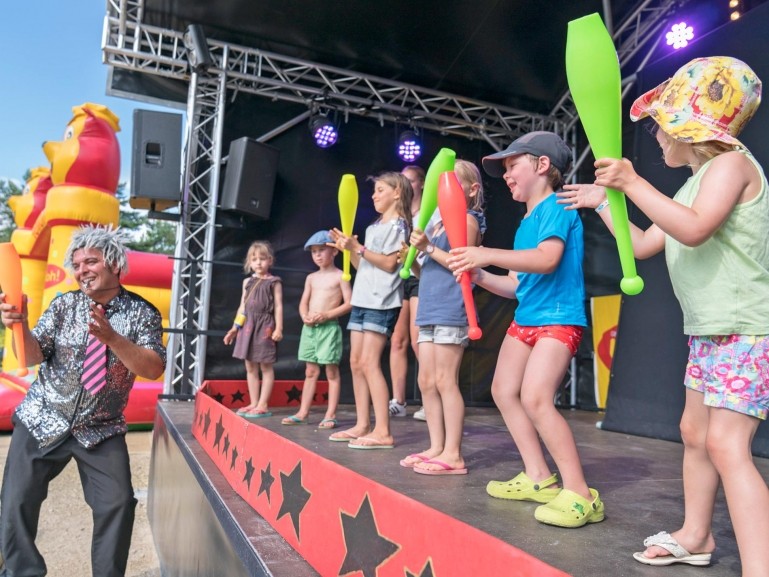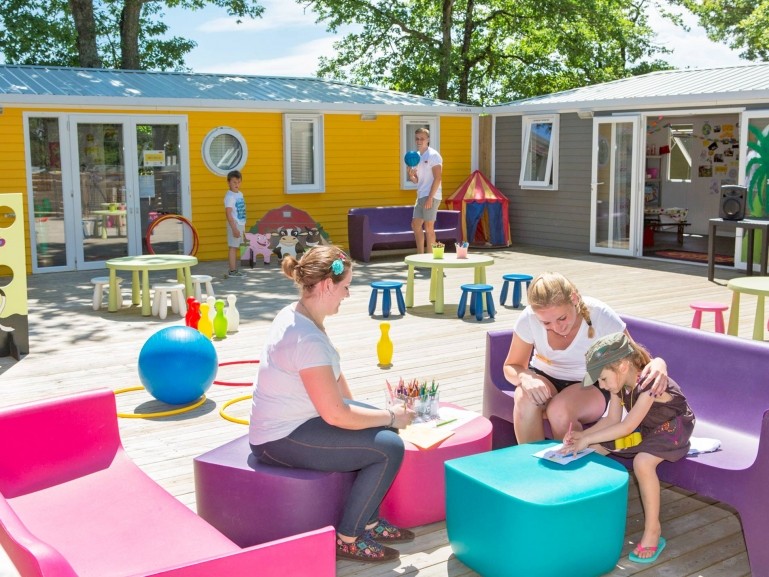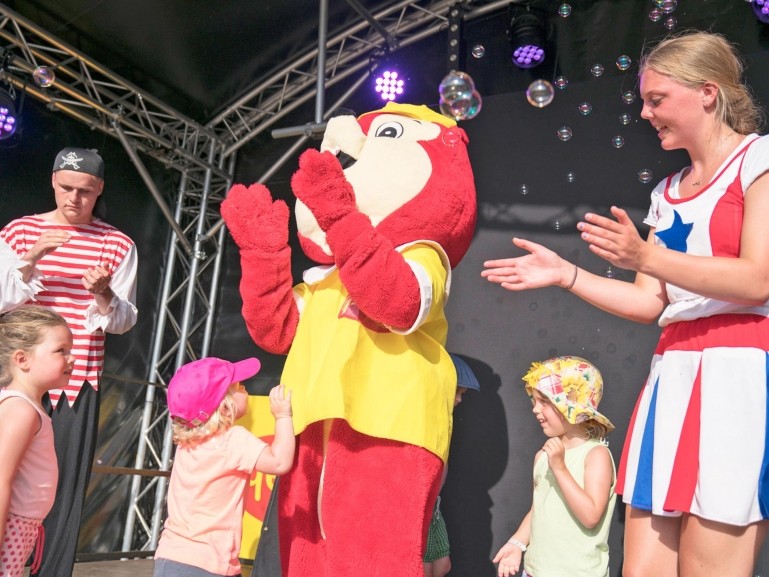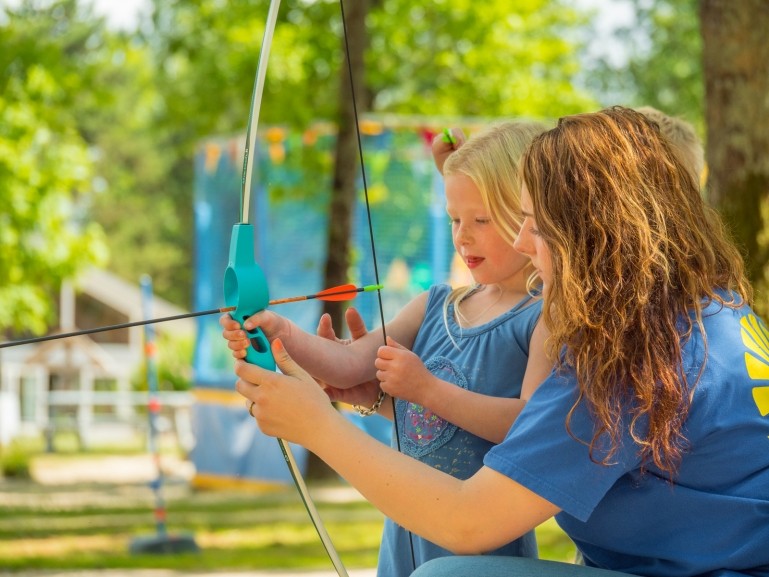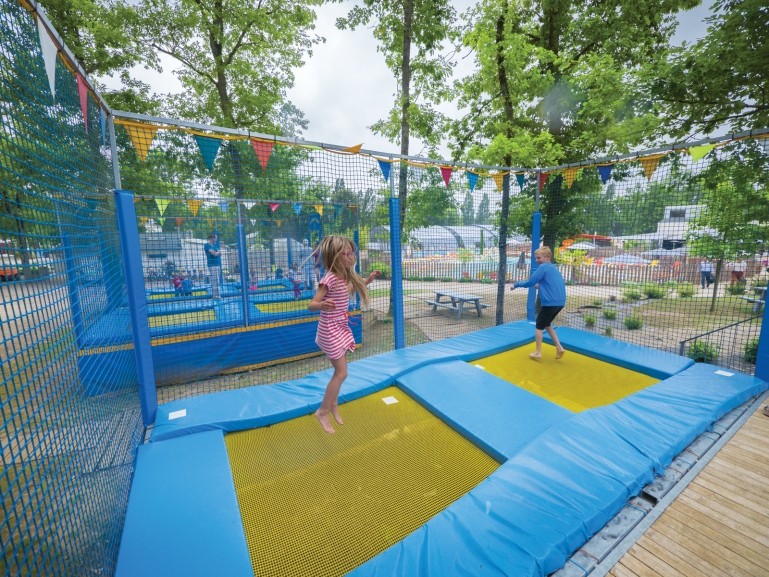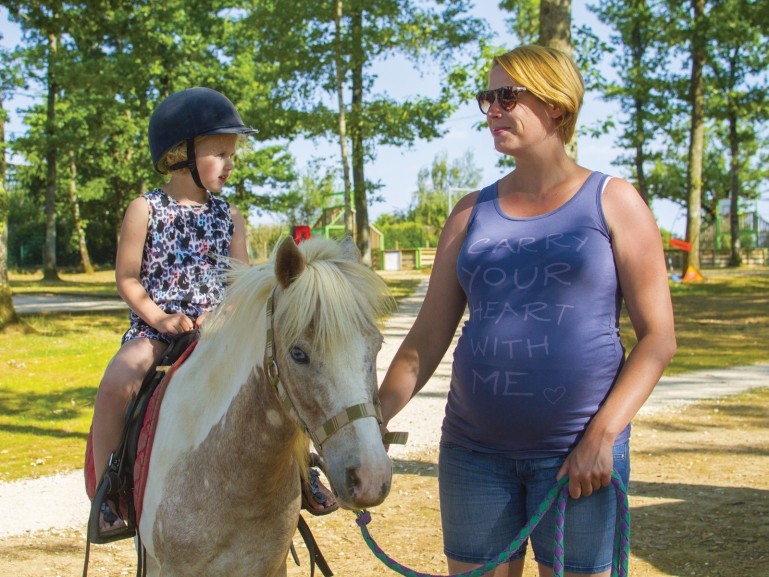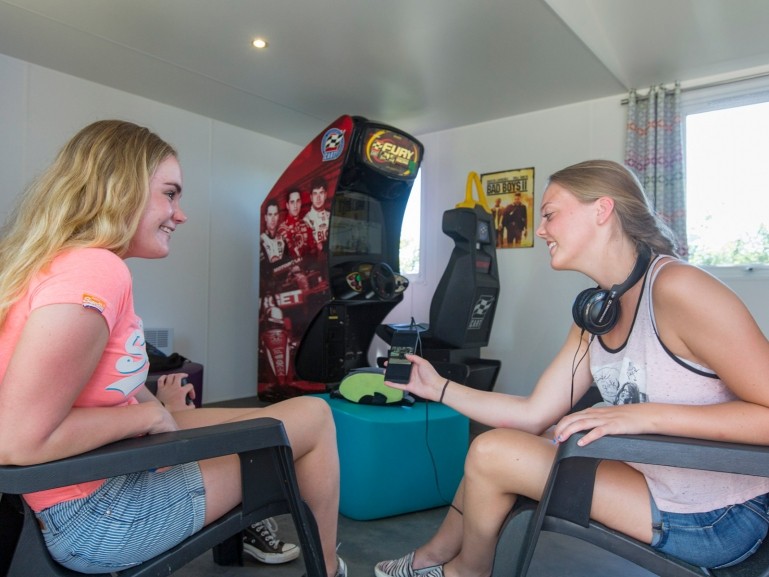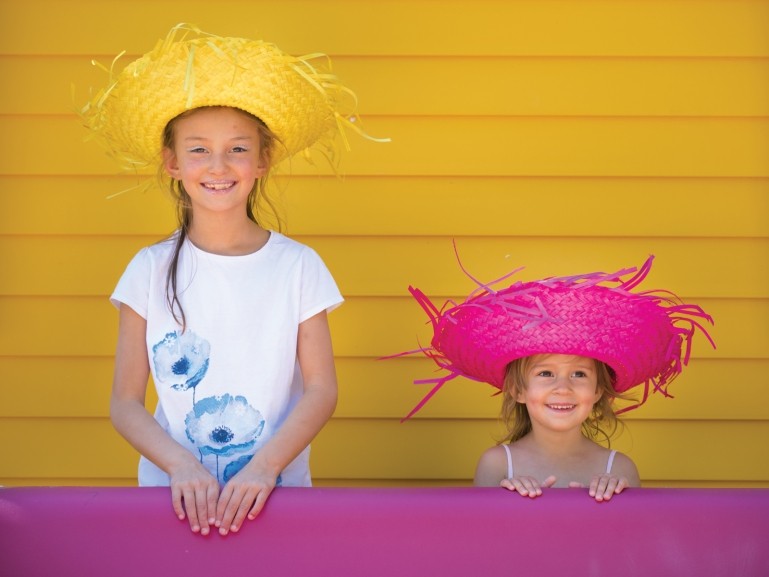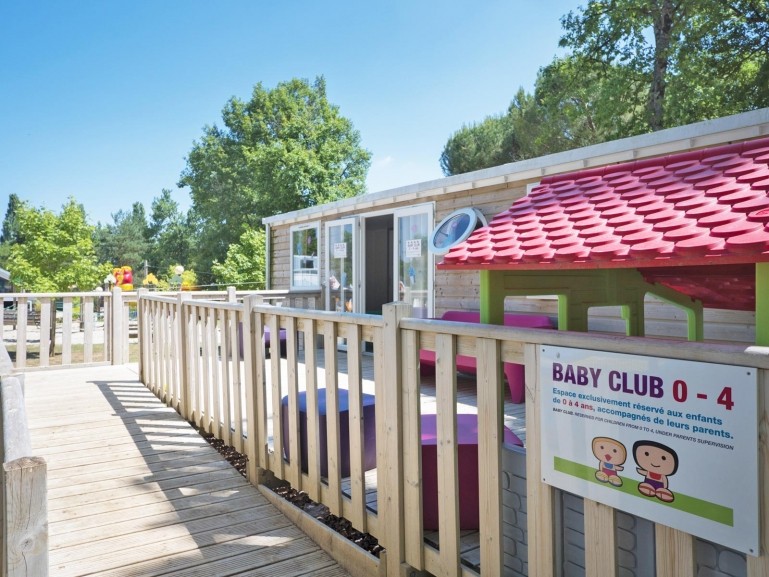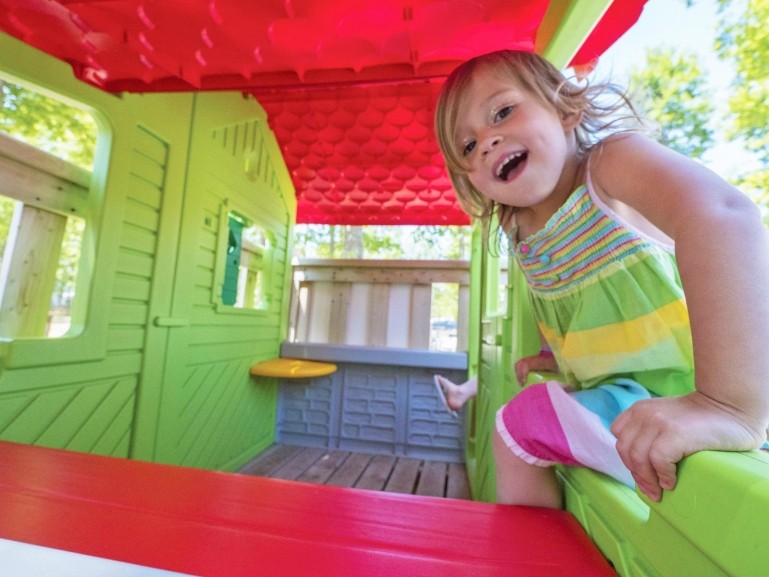 The appropriate facilities and equipment on the campsite
On the campsite, your children will discover our play equipment: our play areas are suited to their needs and an 2 inflatable structures awaits them: Marguerite the cow. They'll be able to practise their favourite sports: tennis, ping-pong, mini-golf, football, volleyball, or else they can have a go on the pedal kart, or use the bikes. Also available to them: football pitch, mountain bikes, pool, table football, electronic-games room, and badminton, 8 trampolines, a new multi-sports ground.
Discovering nature
We suggest that your children come and discover our mini farm with our friends the sheep, goats and chickens! We all know about the special bond between our youngsters and animals. Learning to take care of them, getting close to them, and feeding them is to learn to respect the wild. For the little adventurers, there is an aerial runway on the premises, where they will experience a huge thrill as they take to the heights. Our estate is in an environment that has much to teach us; let's make the most of it!
The pleasures of the water
A paddling pool will let the toddlers get accustomed to the water in complete safety. Your children will come and use our heated indoor pool in all weathers. Ball games, races, and diving with the other children, they'll come and spend hours having fun in the water. And for sliding fun: a large orange water slide and a blue waterfall...
Nearby adventure
For young naturalists, the Beauval Zoo means more than 4000 animals - from the African savannah to a tropical aviary for the birds, with a vivarium along the way. At the zoo, children will discover the diversity of the animal kingdom right in front of their eyes. Recognised as one of the fifteen best zoological parks in the world, at the Beauval Zoo you will have the chance to get to know koalas, tigers and lions.
Only 10 mins from the campsite, all aboard for adventure: the Safari Train will take you on an amazing trip right round the animal park. Come and see all the game: deer with does and fawns, boars and their piglets, roebucks, ostriches, bison, and so much more. A games area for children and an inn specialising in game are also there for you on the site.
www.reserve-de-beaumarchais.com
Feel a bit like a giant in the Loire Valley. Come and discover the marvels of the Loire chateaux in miniature. An amazing, instructive trip following in Gulliver's footsteps.
Children love the world of the sea. At the Val de Loire Aquarium, one of the largest in Europe, you will see more than 10,000 fish swimming before your eyes in 4 million litres of water! A wonderful day in prospect, discovering the great oceans of the world.
In the evenings
Karaoke, disco, circus, magic, puppets, and dance evenings are laid on for them, and there is a regular circus show that children of all ages will find spellbinding.
Kids' Clubs opening times
Kids' Clubs are open throughout the season.
Low Season: from 10 am to 12 pm and from 3 pm to 5 pm, 6 days a week
High Season: from 10 am to 12 pm and from 3 pm to 5 pm, 7 days a week
Sonia's day, 9 years old
11am
This morning, the whole family went to visit the mini castles of the Loire, not far from the campsite. It was pretty amazing, all of the castles reproduced on a small scale!
2pm
It's time to get ready for the end-of-week show! The organisers help us to make our costumes.
5pm
The campsite has eight trampolines! My brother and I really want to have a go. We meet our friends from the Juniors Club there.
8pm
This evening, there's a karaoke show! Both kids and grown-ups can have a go. Mum and dad sang and it was so funny!
×