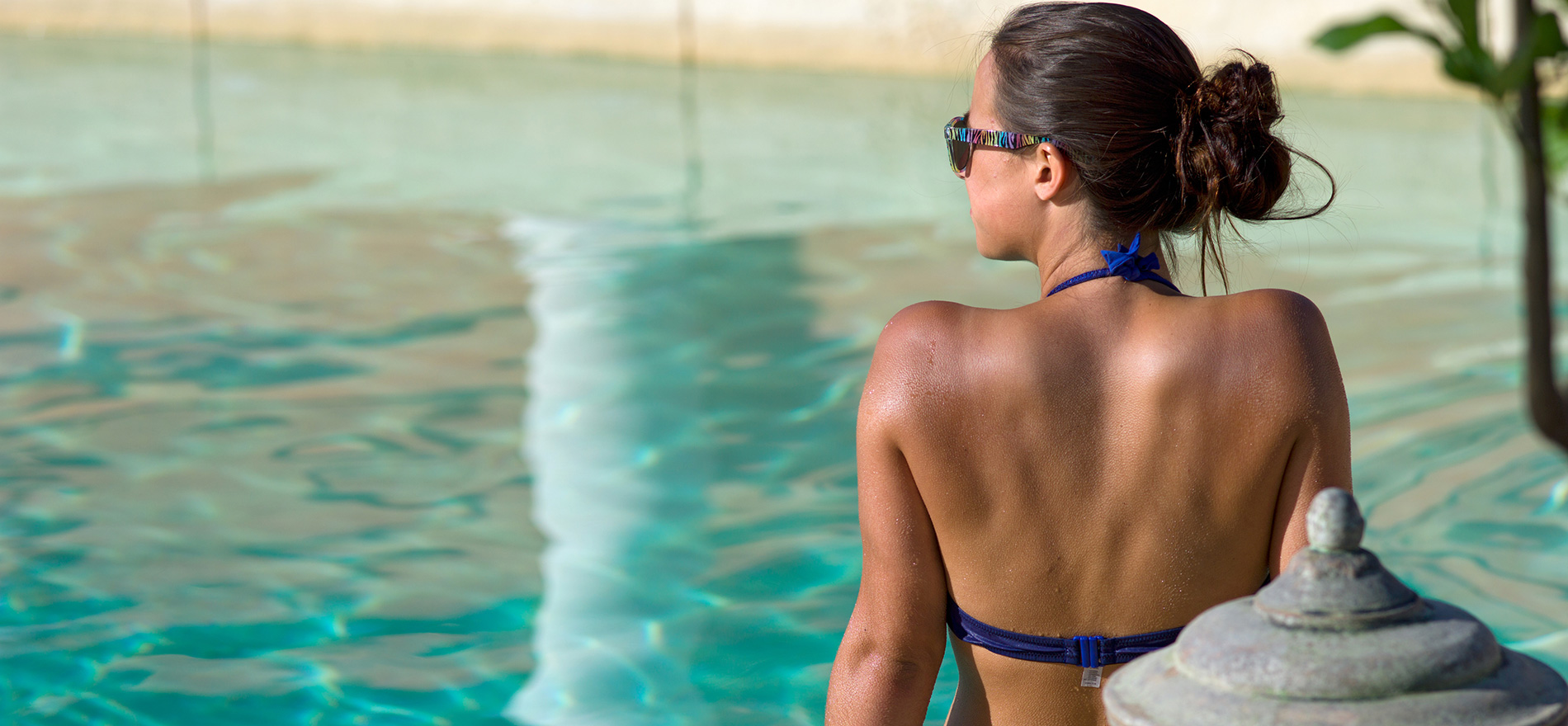 Chic & cool around the swimming pool
3 minutes
The trend at the poolside this year won't just be a question of style it'll also be about showing-off your convictions! Made in France, made in nature or from recycling... the most original and ethical ideas will all be welcome! So take a little tour of some of the accessories to adopt for a look that's as sustainable as it is fashionable, right from your head to the tips of your toes.
Chic and ethical swimwear
Before you slip into the sparkling blue make sure your swimsuit's environmentally-friendly! For women, the innovative brand, Hopaal, had the bright idea of making its gorgeous designs from used fishing nets, recycled plastic waste and other marine materials! But you'd never guess it from the hard-wearing and totally fab final product! For men, the sustainable brand Garçon Français offers high quality swimwear with pure lines and chic styling, French-made and ethical too.
Totally feminine from Hopaal, from 85 euros the set, available here: hopaal.com
Photo credits: Thomas Lodin
Sublimely masculine by the brand Garçon Français from 95 euros : garcon-francais.fr
Photo credits: Pascal Loubet
French elegance
When it comes to accessories, it has to be "made in France". Straw hat inspired by classic Provençal tradition, sunglasses with zero plastic, beach towel in organic cotton, colourful linen beach bag, chic and sassy water bottle... There's no doubt about it you'll definitely have real class!
On your head, the traditional "Barigoules" wide-brimmed hat from Provence! Manufactured once again by Traclet, it's made in natural straw and ties under the chin with a ribbon...
From 59 euros here: www.chapellerie-traclet.com
On your nose, original sunglasses with frames made from recycled oyster, mussel or scallop shells... Who'd have thought of it? An inspired idea by Friendly Frenchy!
From 80 euros on the brand's website: www.friendlyfrenchy.fr
And to complete your ensemble, an attractive and oh-so-soft honeycomb beach towel, made from 64% yarn-dyed organic cotton. And yes, it's made in France, need you ask!
From 75 euros on the brand's website: www.friendlyfrenchy.fr
So refreshing! For those thirsty moments, an ethical, chic and eco-designed water bottle, free from BPA, assembled by a socially-responsible "help through work" company. And you can even personalise it with a little photo of your favourite smiles, what could be better?
Available here from 20.50 euros: boutique.gobilab.com
And to carry all that, a gorgeous linen shopper made in Toulon (France). You won't be able to resist its fun colours and the personalised message printed on the front!
From 44 euros here: mesmotsdeco.com
×