Discover Glamping on holiday
_
Camping has changed, and Glamping is here!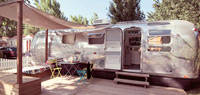 It can now be more luxurious and more cosy, as well as just as authentic.
Enter a world of luxury and comfort, where you can combine living right up close to nature with the comfort and luxury of upmarket accommodation. Glamour and camping now go hand in hand!
Glamping: Forget everything you ever thought you knew about camping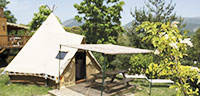 You can combine the benefits of an authentic stay in the heart of the countryside, without the disadvantages, and with the comfort and luxury of a quality hotel.
You too can come and enjoy the new trend of "glamping", the chic version of camping! Air-conditioned accommodation, top-of-the range fittings, quality interior decoration and more. It'll be even better than being in an hotel!
Glamping: Holidaymakers' tastes have changed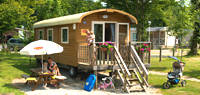 More and more campers are looking for countryside and authenticity alongside comfort and luxury. Such requirements used to be incompatible, but they're now a reality in Yelloh! Village campsites. You'll see that all you need to get a taste for glamping is to wake up in the middle of the countryside where, after spending a perfect night in upmarket accommodation, you can enjoy a sunlit breakfast on the terrace listening to the birdsong!
Glamping holiday in France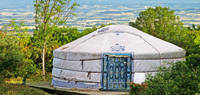 Experience your holidays in France in a whole new way! Located in some of France's loveliest regions, beside the sea, close to the ocean, in the countryside or in the mountains, our Yelloh! Village campsites will be a means for you to discover - or rediscover! - glamping in France.
We pull out all the stops to provide you with the best of the countryside and some real comfort, and make sure your glamping holiday in France is a truly special time!
Glamping in Spain and Portugal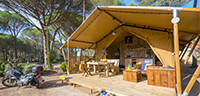 To make sure your camping holidays in Spain and Portugal are a little bit different, choose the glamping option! You'll be sure to enjoy a truly unforgettable experience in which nature, authenticity and comfort all await you, in some fantastic settings. You'll soon see that you'll quickly acquire a taste for glamping with Yelloh! Village campsites!