Try our holidays "with all the mod cons" at the Yelloh! Village campsites
_
Let us take care of things for your holiday: we'll deal with it all!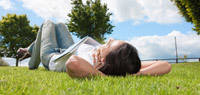 Entertainment, activities, an aquatic park and more! Once you've booked your Yelloh! Village holiday, there's nothing more to pay: everything is included, and everything's in place to make sure you really enjoy your campsite holiday, from the moment you wake up to the moment you go to bed.
High-quality services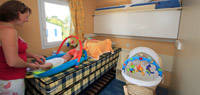 On holiday, nothing is more important than your serenity! We strive to facilitate your stay by providing baby kits* (travel cots and high chairs) and linens* (sheets, towels). We also offer the "end-of-stay cleaning" package.** From start to finish, your holiday with us will be about relaxation, comfort and high-quality services!
* Baby kit, sheets and towels free-of-charge in rental and
** Service included with accommodation
More information on our free-of-charge facilities and the "à la carte" facilities
Activities every day!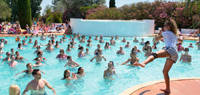 Every day, there is a wide variety of activities available in all our campsites, including outings using shuttle services leaving from the holiday village, introductions to sports activities, relaxing activities and more. Everything is possible with Yelloh! Village!
Amazing aquatic areas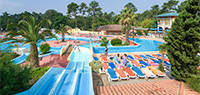 The aquatic parks are always really enjoyed by holidaymakers choosing Yelloh! Village, and they are one of the things that will make your holiday a real success! Throughout your stay, these are always there for you to enjoy during opening hours, where you can enjoy the sun, the sun loungers, the water slides, the heated pools and more. Just come and relax next to the swimming pool!
Junior clubs for all ages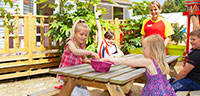 Whatever age your children are, they'll be able to enjoy made-to-measure activities: in every Yelloh! Village, children's clubs provide activities for all age groups*. Here, they can make new friends, enjoy creative activities and new sports, and just give parents a bit of time off! There are all sorts of good reasons to go for an activity club.
* See children's clubs by age group and by village
Wild evenings!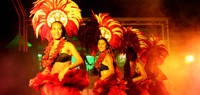 Your holiday evenings will be based around the very centre of our Yelloh! Village. And days are rounded off by a staged event. Whether it's a show put on by the organisers or by holidaymakers, there's always something going on there!
Relaxation areas for your wellness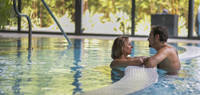 Your holiday wouldn't be complete without a bit of bodycare treatment: enjoy a bit of quality time being pampered, or relax in the Jacuzzi or hammam, or have a massage. There are all sorts of different ways for you to recharge your batteries during your Yelloh! Village holiday! An additional payment may be required for this activity.
A multilingual team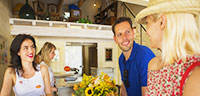 Here, you'll always be able to make yourself understood in any language during your Yelloh! Village holiday. From the organising teams and reception services to the swimming supervisors, our whole team is multilingual.